VEVA Home
EPIC 2007
Mar 16-18 (Fri-Sun), Globe presented EPIC, the Sustainable Living Expo, at the Vancouver Trade and Convention Center. VEVA and the 1912 Detroit were there!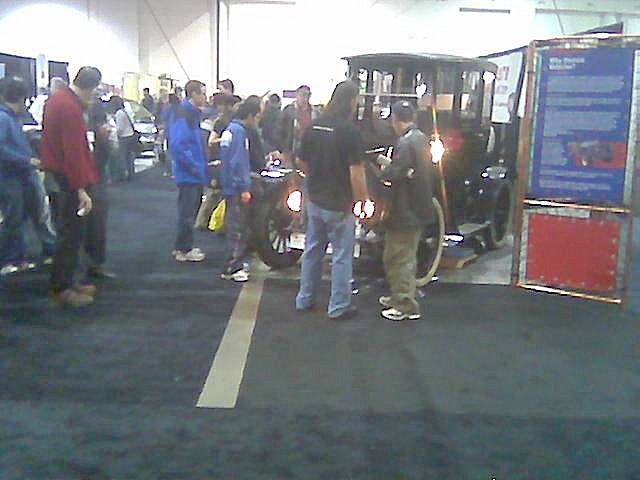 Members of VEVA were on hand to speak to the public, answer people's questions, and display our antique ambassador electric car, the 1912 Detroit Electric. We had plenty of information and handouts for the visitors.
Take a look at the handouts:
Check out the EPIC show website for more information about the show. EPIC stands for "Ethical. Progressive. Intelligent. Consumer."
---
Post-Show Thanks and Comments from VEVA Event Organizer Don Chandler
Many thanks to all the VEVA members who volunteered their time this weekend to attend the EPIC show and help promote EVs to the thousands of attendees. Those who were there included:
John Stonier, Jan Engstrom, Byron Sheardown, Stewart Forsyth, Jeremy Whyte, Rob Shaw, Dave Koehn, Al Horswell, Ron Burton, James Filippelli, Axel Gringmuth, David Barnaby, Greg Fung, Russ Ashworth and Paul Hossack
We provided over 400 handouts and 300 bumper stickers to attendees and probably talked to some 500 individual people collectively about EVs. We had many new people express interest in coming out to club meetings as well.
Thanks to Nick Banks at Dynasty for his donation towards the printing.
---