Skills Canada Solar Vehicle Challenge
Wed April 16th, 2007 - back of TradeX 1190 Cornell Street Abbotsford, near the Airport.

See MAP
Rules - are here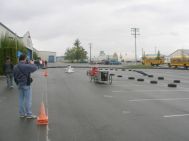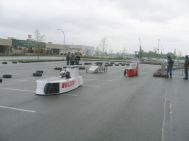 Schedule:
8:30 – 9:00am Registration, Log Book Submittal

9:00 – 9:30am Orientation

9:30 – 10:00am Vehicle Inspection

10:00 – 12:00am Trial Runs and Some Interviews

12:00 – 1:00am Drag Race

1:00 – 2:30pm Lunch

2:30 – 3:30pm Endurance Race

3:30 – 5:30pm Remaining Interviews / display Solar Bikes indoors

6:00 – 7:00pm Prizes Awarded
Tips:
Parking - front of TradeX
Please bring lawn chairs – no seating provided.
Up to only 4 members per team.
Be ready for rain, cold or sun.
Food will be provided for lunch, bring your own snacks, juice/water.
Scope of the race is at this site
Skills Canada Page: http://www.skillscanada.bc.ca/events/race/index.aspx
National Rules: http://www.skillscanada.com/en/corporate/events/documents/CSC07lg-90_BI.pdf
5 Point Harnesses Available From: (Not the only legal ones.)
Questions?
John Foster, Technical Committee 604 602-0379 johnfoster at look dot ca

Adam Thorvaldson, Skills Canada BC 604-432-4362 adam at skillscanada dot bc dot ca