VEVA's 1912 Detroit Electric Featured in The Globe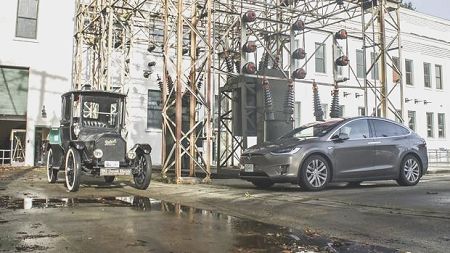 Jan 30, 2017 - Globe and Mail - Writer Brendan McAleer borrows a Model X to compare with the Edwardian-era luxury electric carriage, the 1912 Detroit Electric. (more ...)
Canadian Electric Vehicles Featured for New Government Rebates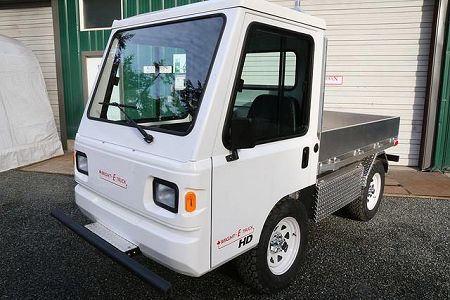 Jan 27, 2017 - Longtime VEVA member Canadian Electric Vehicles was featured in a press release for new BC Government rebates. The rebates, averaging 10-15% are aimed at industrial/farm/campus vehicles which have been purpose built by CanEV as well as imported large electric buses. (more ...)
Provincial Funds Available for Red Seal Electricians to Take EVITP
Jan 21, 2016 - To support the expansion of electric vehicle (EV) charging infrastructure and increase sales of EVs the Province is providing $50,000 to help certified electricians receive training in the installation and maintenance of EV charging stations via the Electric Vehicle Infrastructure Training Program. (more ...)
E-Mazing Race 2015 Gets Underway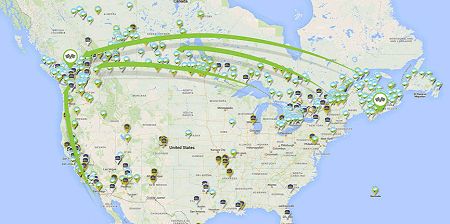 Apr 16, 2015 - It's not a timed race to finish. It's a unique social phenomenon. Participants with EVs register and download a free app. During the period May 27 - June 24 racers post car selfies at Sun Country Highway Charging stations found all over North America. Official launch is on May 27 from the EV2015VE Tradeshow, Halifax, NS. (more ...)
How far out can I go on a partial charge? How long does it take to charge?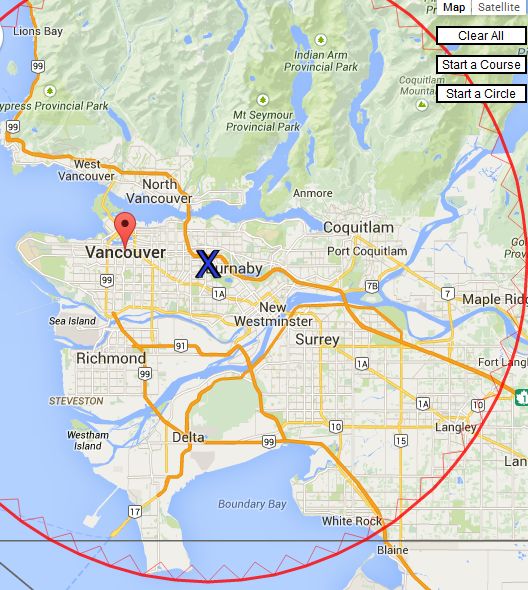 Nov 25, 2014 - Here's a quick way to find out how far you can roam round trip on a single charge. The example map shows a radius of 32 km centered at BCIT. This represents the reasonable range of a Nissan Leaf starting out with an 80% charge and with climate controls in full operation. Although the stated range of the car is 160 km, we have assumed a conservative 80 km, accounting for routing, hills and cabin climate control usage. We also assume no charging at all en route. If you do recharge en route, the Level 2 recharge time for the one-way 32 km trip is 1.5+ hours at 3.6 kW input (pre-2013 models) and 1 hour at 5.7 kW (2013 and newer models) and the energy cost is about 60 cents at 11 cents per kWh. (more ...)
Port Moody Couple Forced to Move Because of Strata Ruling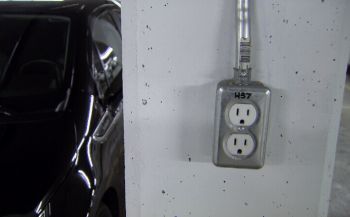 Sep 3, 2014 - A Port Moody couple has been forced to move after their building's strata corporation refused to let them charge their electric car, even though an electric outlet was right next to their parking stall. (more ...)
Plugged in with Electric Cars
May 30, 2014 - Watershed Sentinel - Electric cars have all the right stuff when it comes to being green, but there's also the running cost - a small fraction that of gas. And quick enough to put high-end gas drivers in their place! (more ...)
Come to the Monthly VEVA Meeting
Next meeting:
TUESDAY Apr 18, 7pm
,
Location:
Metro Vancouver offices (Metrotown tower), 5945 Kathleen Avenue, Burnaby
Agenda:
Brad Badelt, City of Vancouver - Update on Curbside Charging Pilot Project; Peter Miller, VEVA - ElectraFest 2017 heads-up; Casey Mynott, Delta Secondary School - 100% Electric Drag Racing Vehicle Projects; Brendon James, Metro Vancouver - Vancouver Auto Show Recap; Bruce Sharpe, VEVA - VEVA and the BC Election
---
Last Meeting
-
Kelly Carmichael (VEVA): Pre-inspection for buying a used LEAF, Eve Hou (Metro Vancouver): EVCondo.ca — a new resource for condo owners, Blair Qualey (NCDA): EVs in China, Olivia Yau (Inokum): last-mile E-scooters that fold to fit in a small car trunk
---
Members Note: Meeting audio is usually placed into the Members' Area a week after the meeting, timing varies.
---
---
Past Meetings
Events Calendar
Community

EV

ents
See complete calendar here
Other Event Links ...
LIVE NEWS

via ELECTREK.CO
Electrek RSS newsfeed is down right now!
EV FAQt
80% of the repair costs in a gas car relate to its internal combustion engine.
EV Related Forums
Join an growing online community of EVers! Browse these forums and get involved. There are a lot of projects for bikes, cars, batteries, charging and more with knowledge you can apply to your own projects!


DIY Electric Car Forums

V is for Voltage

EVforum.net
A 1912 Production Electric Car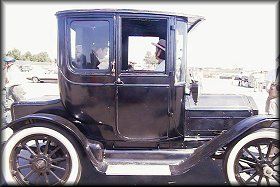 Shown above is VEVA's 1912 Detroit Electric. This car was owned by Mrs. Florence French of Victoria, BC from 1912 till the 1950s. It was driven regularly until the mid-1950s. Electric cars were popular with the ladies due to the ease of starting, quietness and smoke-free cleanliness. The original Nickel-Iron batteries were replaced in the late 1990s because the cases were deteriorated - but they still worked fine! View a photo of the Detroit at home in the Stave Falls BC Hydro powerhouse museum, also built in 1912! It's near Mission, BC at 31338 Dewdney Trunk Road. Call ahead at 604-462-1222 for hours.

2012 Production Electric Cars
The Nissan Leaf
As of 2012, 100 years after the Detroit Electric rolled off the assembly line, The Nissan LEAF electric car is now in production in the Japan, the USA and the EU. As of 2013, it is the world's best selling electric car. The LEAF has a real-world range of 100-160 km, depending on road conditions and driving style. With charging stations being installed at a great rate starting in 2012, including some planned Level 3 chargers which provide an adequate charge from empty in less than an hour, this is the pure electric with the most promise for the masses.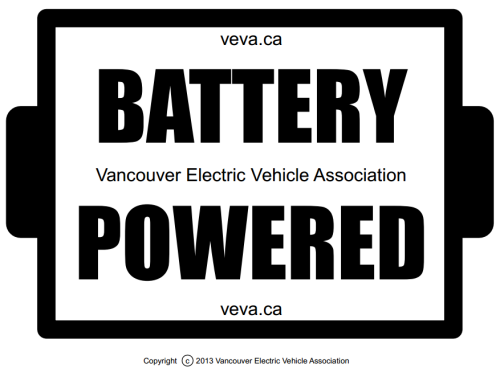 Lucid Air Electric Car Officially on Sale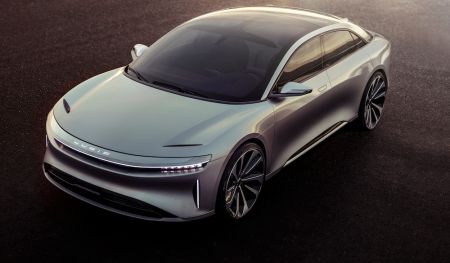 Mar 18, 2017 - After Chinese-backed US-based electric car startup Lucid Motors debuted its stunning prototype Lucid Air sedan in December, the vehicle is now officially on sale in the US. At a starting price of US $60,000 before incentives or tax credits, the luxury sports sedan is competitively priced. At a base 2WD and 400hp, it can be optioned to beyond $100k. (more ...)
Ontario has EV Incentives Up to $14,000
Feb 10, 2016 - Ontario has announced extra incentives for people who buy or lease electric vehicles that could boost available help to as much as $14,000. Currently, incentives range from $5,000 to $8,500 per vehicle. The province is increasing that to a range of $6,000 to $10,000 for the purchase or lease of eligible plug-in EVs and will also offer an extra $3,000 incentive for EVs that have battery capacity beyond 30 kWh, and an additional $1,000 if the vehicle has at least five seats. The province is also spending $20M to build EV charging stations. (more ...)
LAPD Tests out BMW i3 and Tesla P85D for Police Duty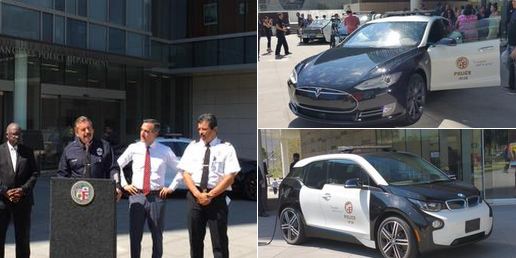 Sep 11, 2015 - If this trend takes off, the bad guys don't have a chance, unless they have the same car! (more ...)
Glow in the Dark Paint on Nissan Leaf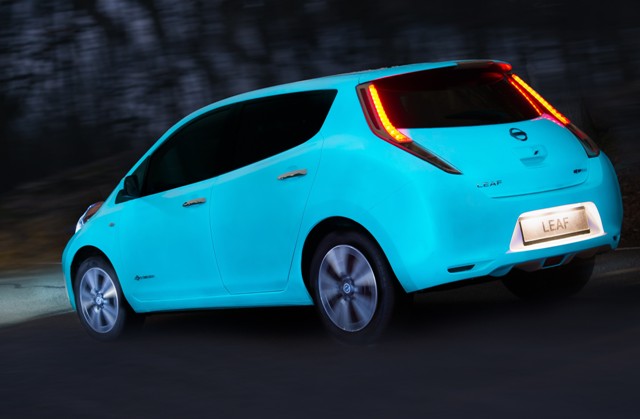 Feb 14, 2015 - The Japanese automaker Nissan is showing off a new electric car that might be easier to find at night in one of those giant parking lots.It's accomplished this trick by adding paint called STARPATH that absorbs ultraviolet rays during the day.Then at night, the electric Nissan Leaf actually glows in the dark. (more ...)
Nissan Leaks Development of 400km Range EV Battery
Dec 1, 2014 - hybridcars.com - Following an unintentional disclosure by CEO Carlos Ghosn, Nissan has confirmed it will "very soon take the issue of range off of the table." This could severely impact the fuel cell camp. (more ...)
Improved Mitsubishi Electric Racers Take 2nd/3rd Overall at Pikes Peak 2014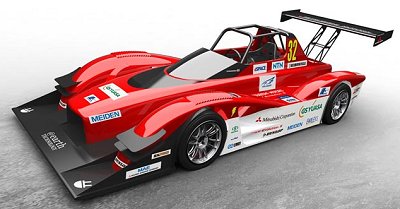 Jun 29, 2014 - The Pikes Peak June 29, 2014 saw two MiEV Evolution III tube frame cars with 450kW and four motors take 2nd and 3rd overall a scant 2.4 seconds behind the leader in a field of 130 vehicles which included unlimited open wheel racers and motorcycles from other motorsports classes. Monster Tajima might have been in the top 5 with his improved racer but he did not get an official time due to a transponder problem. The DriveEo dual motored 360 kW Tesla roadster was only able to beat 25% of the field due to rough roads at the top. The climb to 14,000 feet makes turbos a necessity on gas cars due to the rarified air. But electric motors don't need air which is to their advantage. See 20 min video (more ...)
Earth Day 2014: Electric cars at a 'tipping point'
Apr 24, 2014 - CBC News - Duncan McCue heads to the heart of car culture, Los Angeles, for a documentary on the future of electric vehicles on The National on CBC News Network and CBC Television. (more ...)
Turn a Model S into a Camper?
Dec 7, 2013 - Yes, he's serious. 2 Vanagons + 1 Tesla-S battery and drivetrain equals a new Otmar 'Zilla' Ebenhoech creation. See Blog. (more ...)