VEVA's 1912 Detroit Electric Featured in The Globe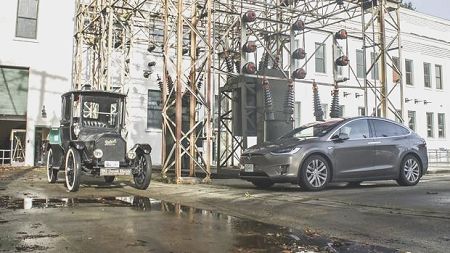 Jan 30, 2017 - Globe and Mail - Writer Brendan McAleer borrows a Model X to compare with the Edwardian-era luxury electric carriage, the 1912 Detroit Electric. (more ...)
Canadian Electric Vehicles Featured for New Government Rebates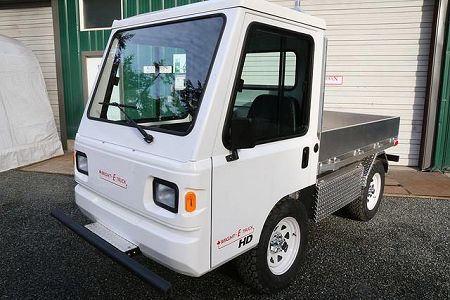 Jan 27, 2017 - Longtime VEVA member Canadian Electric Vehicles was featured in a press release for new BC Government rebates. The rebates, averaging 10-15% are aimed at industrial/farm/campus vehicles which have been purpose built by CanEV as well as imported large electric buses. (more ...)
Energy Innovator in Duncan BC Now Grows Energy Instead of Strawberries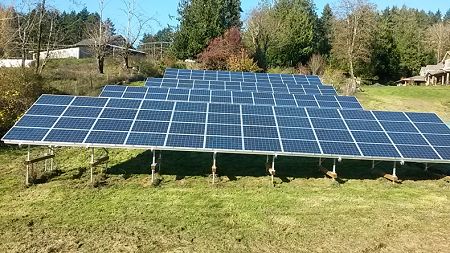 Feb 8, 2016 - Peter Nix has just installed a ground-level home solar array of 192 panels. The lifespan is 25 years with a theoretical output of 50 kW. However, the daylight output on average is much lower. Nonetheless, he will be selling power back to BC Hydro at a rate somewhere between Tier 1 and Tier 2 rates at 10 cents per kWh. At an installed cost of $145,000 and factoring in energy savings and being a micro-power generation site, Peter forcasts a minimum 4% return on his investment which beats most investments right now. (more ...)
VEVA President Bruce Stout Drives to Halifax and Back Using No Gas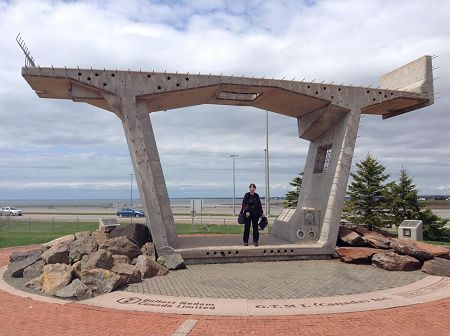 May 27, 2015 - Over 3 weeks and 17,895 km in May 2015, Bruce Stout drove electric (as far as PEI) in time to visit the EV2015VÉ Conference and Trade Show in Halifax. He charged for free courtesy of Sun Country Highway charge stations (and a few Tesla superchargers) along the way. He'll be participating in the E-Mazing Race starting May 27 as he starts his trip back to Vancouver. You don't have to drive cross country to participate in the E-Mazing Race. Enter for free at site and snap a photo at as many stations as you can find. Any EV club with 25 or more registrations wins a SCH charger to be placed at a public location of your choice. See his Photo Blog here
City of North Vancouver Installs a DC Fast Charge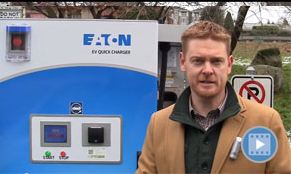 Dec 4, 2014 - The City of North Vancouver today launched the North Shore's first and only DC fast charger. Owners of Nissan Leafs, Mitsubishi i-MiEVs, Kia Soul EVs as well as Tesla Model S with CHAdeMO option will be stopping for up to 30 minutes on their way from other parts of the Lower Mainland as they fill up with an average 10 kWh ($1) worth of electricity. As the vehicles fill up they will be able to explore the 1st and Lonsdale area. Read more about the City of North Vancouver's EV initiatives or click the link to view the videos. (more ...)
UBC Publishes Fast Charging Infrastructure Report
Sep 11, 2014 - This 70+ page report is designed to assist local and provincial authorities in the challenging process of siting and deploying EV fast-charge infrastructure. (more ...)
EVs Can Save Fleet Operators $16k over 7 Years
Jun 16, 2014 - greencarreports.com - a Plug-In BC study concludes that battery-electric vehicles at the low end of today's price range would save fleet operators an average of $16,000 apiece, compared to the vehicles they'd be replacing, over a service life of seven years, for 94% of routes. See Feb 2014 PDF. (more ...)
Come to the Monthly VEVA Meeting
Next meeting:
TUESDAY Feb 21, 7pm
,
Location:
Metro Vancouver Offices, 4330 Kingsway, Burnaby. Entrance on Kathleen Ave.
Agenda:
Pre-inspection for buying a used LEAF, EVCondo.ca — a new resource for condo owners, EVs in China, E-scooters that fit in your trunk
---
Last Meeting
-
AGM and EV Policy Report Card presentation by Suzanne Goldberg, SFU
---
Members Note: Meeting audio is usually placed into the Members' Area a week after the meeting, timing varies.
---
---
Past Meetings
Events Calendar
Community

EV

ents
See complete calendar here
Tue Mar 14 to Wed Mar 15 '17

Tue Mar 28 to Sun Apr 2 '17
Other Event Links ...
LIVE NEWS

via ELECTREK.CO
Electrek RSS newsfeed is down right now!
EV FAQt
Thinking about getting a modern clean diesel to be green? Think again. It produces an average of 50 times the smog-forming emissions of a gas-burning Prius, twice that of an SUV. It will save you some money on fuel though.
EV Related Forums
Join an growing online community of EVers! Browse these forums and get involved. There are a lot of projects for bikes, cars, batteries, charging and more with knowledge you can apply to your own projects!


DIY Electric Car Forums

V is for Voltage

EVforum.net
A 1912 Production Electric Car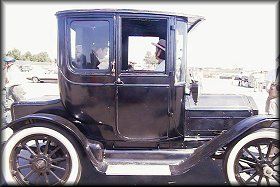 Shown above is VEVA's 1912 Detroit Electric. This car was owned by Mrs. Florence French of Victoria, BC from 1912 till the 1950s. It was driven regularly until the mid-1950s. Electric cars were popular with the ladies due to the ease of starting, quietness and smoke-free cleanliness. The original Nickel-Iron batteries were replaced in the late 1990s because the cases were deteriorated - but they still worked fine! View a photo of the Detroit at home in the Stave Falls BC Hydro powerhouse museum, also built in 1912! It's near Mission, BC at 31338 Dewdney Trunk Road. Call ahead at 604-462-1222 for hours.

2012 Production Electric Cars
The Nissan Leaf
As of 2012, 100 years after the Detroit Electric rolled off the assembly line, The Nissan LEAF electric car is now in production in the Japan, the USA and the EU. As of 2013, it is the world's best selling electric car. The LEAF has a real-world range of 100-160 km, depending on road conditions and driving style. With charging stations being installed at a great rate starting in 2012, including some planned Level 3 chargers which provide an adequate charge from empty in less than an hour, this is the pure electric with the most promise for the masses.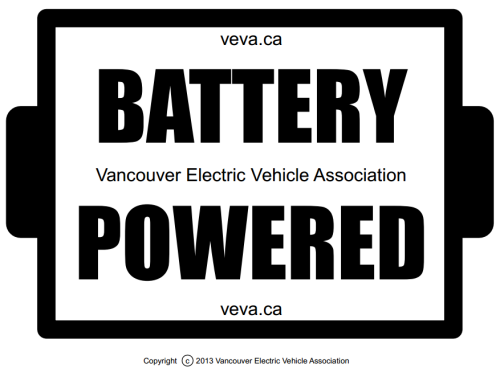 Hawaii bill HB793 would impose Fines for Parking Lots without EV Charging
Feb 15, 2017 - In the second most EV-populous state, lawmakers are pushing for fines for parking facility owners who don't provide at least one EV charging station per 100 spaces. Plenty of warning will be given as they'd have 365 days before being issued a first warning. If the owner still fails to abide by the rules, DOT will give then another 270 days before the owner is fined $200 for every day that the place of public accommodation remains in violation. If the owner accrues more than $300,000, DOT will place a lien against the the property. (more ...)
The Carbon Footprint of EVs and Bicycles
Feb 5, 2017 - According to one analyst, driving a Nissan Leaf is cleaner than powering a bicycle rider eating only beef — but only if that Leaf is charged on electricity that was not generated using coal. And consuming an average diet and riding a bike is lower-carbon than an electric car powered on natural gas, but worse than one powered by nuclear, solar, hydro, or wind. We suspect EVs are actually cleaner than mass transit's infrastrure and operational overhead! (more ...)
Lawrence National Lab Finds Short Range EVs Useful with Degraded Batteries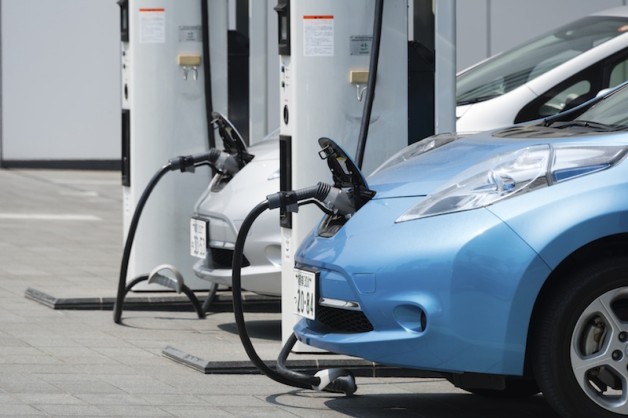 Jan 30, 2017 - Berkeley Lab scientists have determined that even with a 50% capacity fade on a 24 kWh EV battery, the daily travel needs of more than 80% of drivers are still met. They also found that power fade was not apparent at even the 70% degradation level, as the EV drivetrain power was always well under the battery's capacity to provide that power. (more ...)
BC2BC Electric Highway Gets $9 Million Boost From California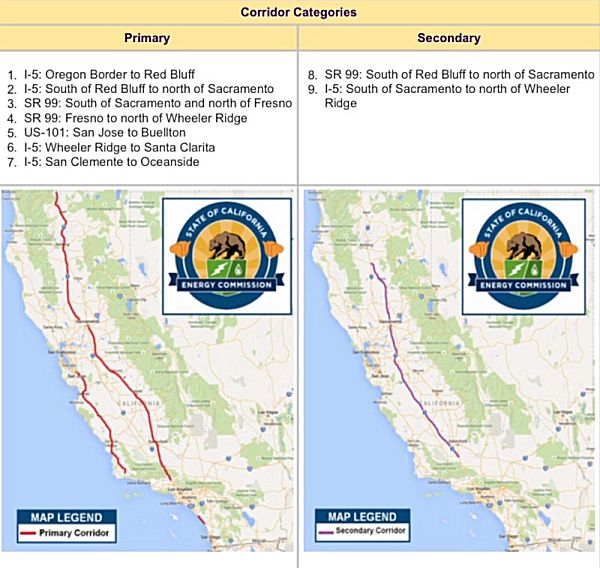 Feb 23, 2016 - Nearly $9 million in new funding was awarded by the California Energy Commission to build DC fast-charging stations along major routes in the state(I-5, Route 99 and Highway 101). The overall objective is to complete the West Coast Electric Highway which stretches from British Columbia to Baja California. (more ...)
Téo Taxi electric cab fleet hits the streets of downtown Montreal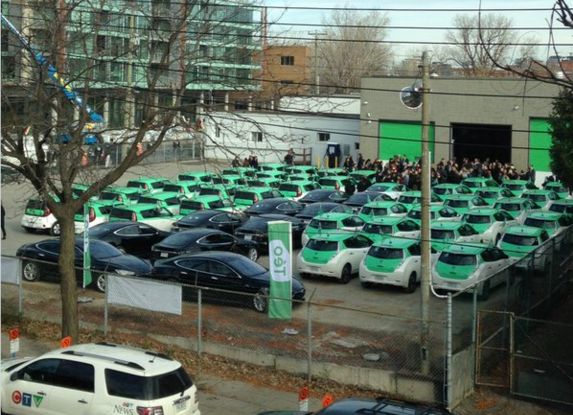 Nov 26, 2015 - The main test fleet is comprised of Nissan Leafs and Kia Souls. All cars are equipped with meters and prices are similiar to those in other Montreal cabs. Téo Noir, the company's high-end service, is testing 10 black Teslas to compete with limousines in the city. ​In a departure from low-pay and long hours, Téo drivers get paid $15 an hour. They'll also get benefits, including paid vacation days. Téo plans to equip every electric taxi with free wifi and a tablet in the backseat for customers to access TV news, newspapers and streaming music. See video (more ...)
Landlords get charged up for electric cars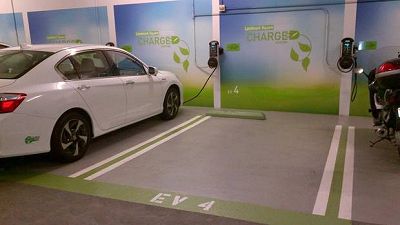 Apr 15, 2015 - In the past few years, provinces such as Ontario, Quebec and British Columbia have rolled out different incentive plans for landlords and businesses to install industry-standard charging stations. Coupled with tenant demand, commercial real estate owners and managers have plenty of reasons to invest in these chargers – which, in turn, should increase demand for vehicles themselves. (more ...)
Nissan Leaf replacement Battery price announced
Jun 30, 2014 - Nissan USA has announced pricing for the replacement of Nissan Leaf battery packs that is surprisingly affordable.Battery replacements are now available for purchase at your certified Nissan LEAF dealers in the United States. The suggested retail price of the Nissan LEAF battery pack is $5,499. This price includes and requires a return of your original battery pack (valued at $1,000) to the dealer in exchange for the new battery. This price does not include tax, installation fees or an installation kit required for 2011 and 2012 vehicles. The MSRP for the installation kit (which includes brackets and other minor parts required to retrofit the newer pack to original vehicles) is approximately $225. Nissan expects the installation to take about three hours. However, dealers set the final pricing, so we recommend confirming with your local retailer. (more ...)
Condo Charging Guide
May 11, 2014 - Plug'n Drive, an Ontario-based EV initiative has created a comprehensive guide to condo charging in Canada. We would like to adopt similar guidelines for BC. (more ...)