VEVA's Government Policy Reommendations
Apr 8, 2016 - Electric vehicle adoption in BC has been slower than hoped. There are many things that the BC provincial government could do to enhance electric vehicle (EV) adoption, and we understand that any action taken must align with and complement current transportation strategies, including other lower emission vehicles. (Read the 14 pg PDF here)
Electric Cars in BC Now Qualify for HOV Lanes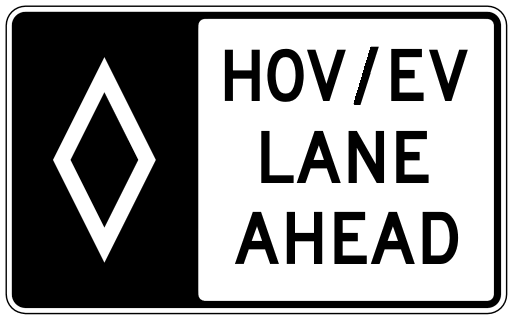 Mar 2, 2016 - CTVnews - Drivers who go plug-in electric in B.C. are about to get the green light to travel the province's high occupancy vehicle lanes regardless of occupancy requirements. (Read why this makes sense)The HOV changes are part of series of vehicle emission initiatives, including almost $7 million to fund more electric vehicle charging stations and to encourage people to buy electric vehicles.B.C.'s Clean Energy Vehicle program includes point-of-sale incentives of up to $5,000 for the purchase or lease of new battery-electric or plug-in hybrid electric vehicles. The potential saving could rise to $8,250 when combined with vehicle scrap incentives. B.C. has spent $31 million in its Clean Energy Vehicle program over the past five years. There are more than 2,300 clean energy vehicles on the road in B.C. See Official Release which contains details on how to apply for your sticker. (more ...)
Government Initiative Needed to Boost Electric Vehicle Use
Jul 15, 2015 - SFU Communications - Canadians want electric vehicles but governments need to help support the market, according to a team of Simon Fraser University researchers. The team has found more than one third of Canadian buyers want an electric vehicle — particularly a plug-in hybrid like the Chevrolet Volt. However, less than one per cent of vehicle sales in Canada are electric because of low consumer awareness and limited vehicle choice. The researchers hope that policymakers and politicians will take note of their two recent studies, as discussions on climate change ramp up locally and globally. (more ...)
EVs Can Now Range in Southern BC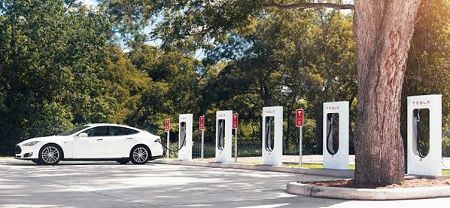 Dec 12, 2014 - With some planning, it's now possible to drive much of the lower mainland, Whistler and Vancouver Island in a typical small EV such as the Nissan Leaf. Currently, the southern Interior can be done in the longer range Tesla plug-in because of new Tesla Superchargers in Hope. The shorter range EVs will have to wait for the imminent installation of a fast charger on the Coquilhalla Highway. (more ...)
EVSE Usage Statistics Released
Oct 6, 2014 - Data from 353 stations installed under the recent provincial Community Charging Infrastructure Fund have been tallied and we have had 45,455 charge events that have saved 106,000 litres of fuel and avoided the production of 255,000 kg of CO2. Green Car Reports Summary. For detailed data, see Fleetcarma link (more ...)
SFU's BC Plug-in Vehicle Owners' Survey

Jun 25, 2014 - SFU's School of Resource Environmental Management begins a study July 2014 on how production EV owners in BC use and charge their vehicles. The surveys are all online and also include a 7-day diary. Participants will receive a $50 VISA Gift Card. Invitation (more ...)
VEVA Test Drives BMWi3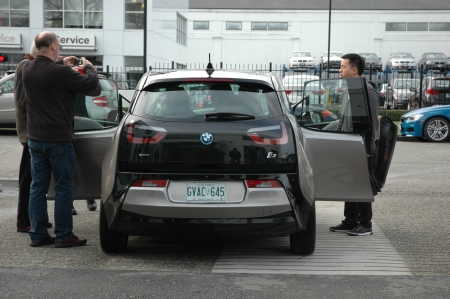 Apr 6, 2014 - 21 VEVA members arrived early Sunday morning to test drive the new BMWi3 electric. The first deliveries in Vancouver are scheduled for early May, and by the results of the test drives today, this should be a very popular new electric car!
A Modern History of EVs
Since 1990, Califiornia's ZEV mandate which has been adopted as a model for many states, has driven the advent of a significant influx of EV models to the market. This despite the oversupply of oil in the personal transportation marketplace. (more ...)
Come to the Monthly VEVA Meeting
Next meeting:
Wed June 15, 7:00-9:30pm
,
Location:
IBEW Local 213, 1424 Broadway St, Port Coquitlam off Mary Hill Bypass
Agenda:
TBA
---
Last Meeting
-
Kelly Carmichael's
travels to BC's Interior on DC Fast Charge in a 100km EV. VEVA should vote to partner with BC to place a dedicated L2 charger on the Coquihalla to open up Merritt ahead of a future L3 placement.
Gordon Deans
: Load sharing to support cost-effective EV charging.
---
Members Note: Meeting audio is placed into the Members' Area a week after the meeting, timing varies.
---
---
Past Meetings
Events Calendar
Community

EV

ents
Other Event Links ...
LIVE NEWS

via EVWORLD.COM
EVworld evworldwire RSS newsfeed is down right now!
EV FAQt
In EVs using heat is a problem isn't it? Actually, gas cars always generate heat, whether you need it or not. Fully every 2 out of 3 litres of gas you burn goes to making heat, with 1 litre going to propulsion. You're paying a lot of money to heat the cabin, and the other 3/4 of the year you are warming our climate some more.
EV Related Forums
Join an growing online community of EVers! Browse these forums and get involved. There are a lot of projects for bikes, cars, batteries, charging and more with knowledge you can apply to your own projects!


DIY Electric Car Forums

V is for Voltage

EVforum.net
A 1912 Production Electric Car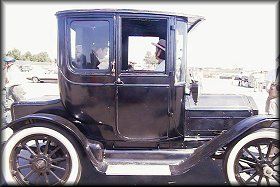 Shown above is VEVA's 1912 Detroit Electric. This car was owned by Mrs. Florence French of Victoria, BC from 1912 till the 1950s. It was driven regularly until the mid-1950s. Electric cars were popular with the ladies due to the ease of starting, quietness and smoke-free cleanliness. The original Nickel-Iron batteries were replaced in the late 1990s because the cases were deteriorated - but they still worked fine! View a photo of the Detroit at home in the Stave Falls BC Hydro powerhouse museum, also built in 1912! It's near Mission, BC at 31338 Dewdney Trunk Road. Call ahead at 604-462-1222 for hours.

2012 Production Electric Cars
The Nissan Leaf
As of 2012, 100 years after the Detroit Electric rolled off the assembly line, The Nissan LEAF electric car is now in production in the Japan, the USA and the EU. As of 2013, it is the world's best selling electric car. The LEAF has a real-world range of 100-160 km, depending on road conditions and driving style. With charging stations being installed at a great rate starting in 2012, including some planned Level 3 chargers which provide an adequate charge from empty in less than an hour, this is the pure electric with the most promise for the masses.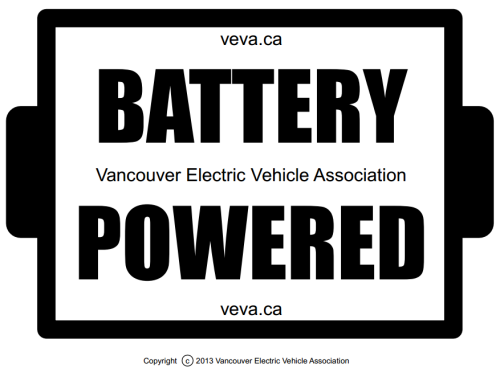 Statewide "Anti-ICEing" Laws in Effect for Oregon and Illinois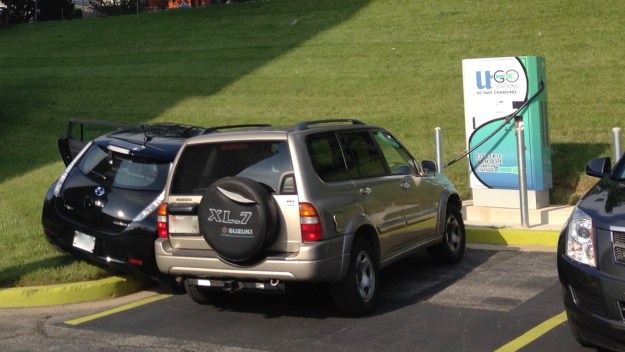 May 26, 2016 - Two states have enacted laws in 2016 to penalize people who block electric vehicle charging stations.
Oregon – $250 Fine for ICEing an EV Charging Station
Illinois – Up to $100 Fine and Towing
To date: Washington, California, Arizona, Florida, Hawaii have laws
Counties: Montgomery Co. MD, Howard Co. MD, Calvert Co. MD
Cities with bylaws: Washington DC, Seattle WA, Kirkland, WA, Raleigh NC, Knoxville TN, Rehoboth Beach, DE

PlugInSites.org has compiled a Legislation Reference Guide for local and state laws regarding reserved parking spaces for plug-in vehicle charging stations. This is being shared with lawmakers as a resource to consult when drafting future bills. (more ...)
BC2BC Electric Highway Gets $9 Million Boost From California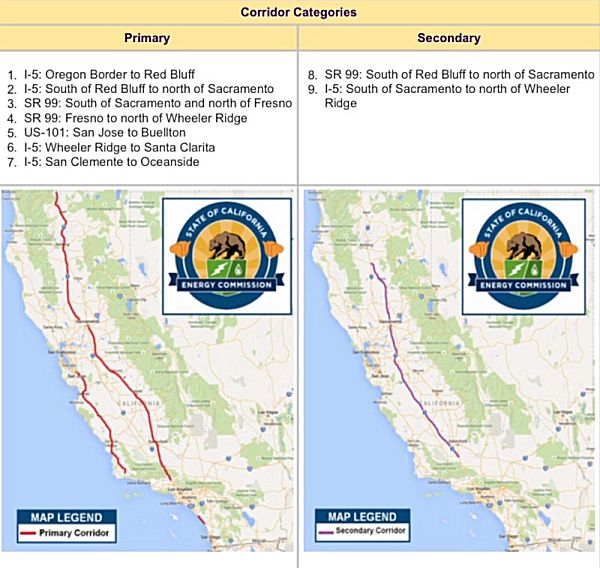 Feb 23, 2016 - Nearly $9 million in new funding was awarded by the California Energy Commission to build DC fast-charging stations along major routes in the state(I-5, Route 99 and Highway 101). The overall objective is to complete the West Coast Electric Highway which stretches from British Columbia to Baja California. (more ...)
More States Form Legislation Madating Apartment Charging
Jan 22, 2016 - EV charging is an important issue. For people who live in apartments or condominiums, getting access to a charging station for an EV can be a problem. If the objective is to make driving an EV a pleasant experience for everyone, this problem needs a solution. EVs should not be restricted only to single family home owners. California Senate Assembly Bill 2565 and the upcoming Maryland's Senate Bill 168 are hints of what's to come.Circuit sharing schemes such as Evercharge which take advantage of the J1772 standard's ability to throttle the charging rate are already on the way. (more ...)
LAPD Tests out BMW i3 and Tesla P85D for Police Duty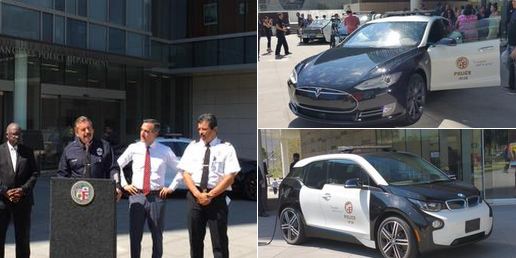 Sep 11, 2015 - If this trend takes off, the bad guys don't have a chance, unless they have the same car! (more ...)
Glow in the Dark Paint on Nissan Leaf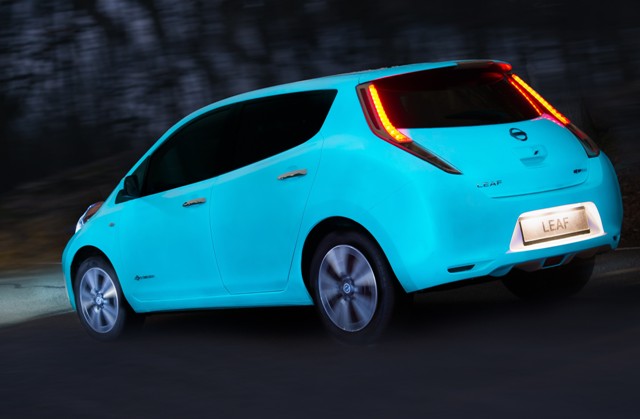 Feb 14, 2015 - The Japanese automaker Nissan is showing off a new electric car that might be easier to find at night in one of those giant parking lots.It's accomplished this trick by adding paint called STARPATH that absorbs ultraviolet rays during the day.Then at night, the electric Nissan Leaf actually glows in the dark. (more ...)
Nissan Leaks Development of 400km Range EV Battery
Dec 1, 2014 - hybridcars.com - Following an unintentional disclosure by CEO Carlos Ghosn, Nissan has confirmed it will "very soon take the issue of range off of the table." This could severely impact the fuel cell camp. (more ...)
Improved Mitsubishi Electric Racers Take 2nd/3rd Overall at Pikes Peak 2014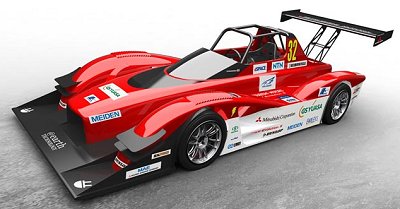 Jun 29, 2014 - The Pikes Peak June 29, 2014 saw two MiEV Evolution III tube frame cars with 450kW and four motors take 2nd and 3rd overall a scant 2.4 seconds behind the leader in a field of 130 vehicles which included unlimited open wheel racers and motorcycles from other motorsports classes. Monster Tajima might have been in the top 5 with his improved racer but he did not get an official time due to a transponder problem. The DriveEo dual motored 360 kW Tesla roadster was only able to beat 25% of the field due to rough roads at the top. The climb to 14,000 feet makes turbos a necessity on gas cars due to the rarified air. But electric motors don't need air which is to their advantage. See 20 min video (more ...)
Earth Day 2014: Electric cars at a 'tipping point'
Apr 24, 2014 - CBC News - Duncan McCue heads to the heart of car culture, Los Angeles, for a documentary on the future of electric vehicles on The National on CBC News Network and CBC Television. (more ...)
Turn a Model S into a Camper?
Dec 7, 2013 - Yes, he's serious. 2 Vanagons + 1 Tesla-S battery and drivetrain equals a new Otmar 'Zilla' Ebenhoech creation. See Blog. (more ...)