VEVA's 1912 Detroit Electric Featured in The Globe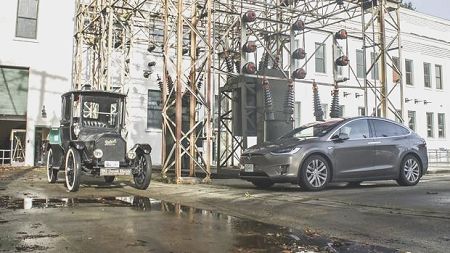 Jan 30, 2017 - Globe and Mail - Writer Brendan McAleer borrows a Model X to compare with the Edwardian-era luxury electric carriage, the 1912 Detroit Electric. (more ...)
Canadian Electric Vehicles Featured for New Government Rebates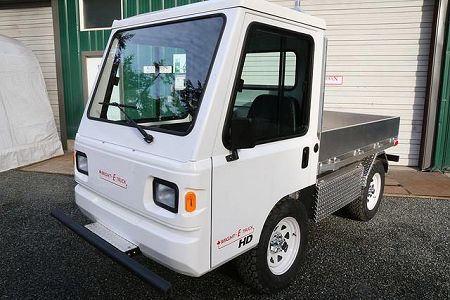 Jan 27, 2017 - Longtime VEVA member Canadian Electric Vehicles was featured in a press release for new BC Government rebates. The rebates, averaging 10-15% are aimed at industrial/farm/campus vehicles which have been purpose built by CanEV as well as imported large electric buses. (more ...)
6 ways B.C. is so great for electric vehicles
Apr 6, 2016 - The Vancouver Auto Show showcased a variety of vehicles running on alternative energy sources. The interest in B.C. around alternative energy vehicles, including hydrogen fuel cells, hybrids, and plug-in electrics, has been increasing, and with good reason. The truth is that B.C. is a great place to drive EVs. (more ...)
A VEVA Leaf Does Vancouver to Prince George in 2 Days!
Aug 3, 2015 - Rebecca Abernethy recently took a 150 km EV on a 1600 km round trip. Where there were no Level 2 charge stations, she improvised at homes, campsites and welding shops. Although 120v is at every buliding along the way, she will be reporting on where the opportunities are for installing L2 chargers. (more ...)
First Drive: 2015 Tesla Model S P85D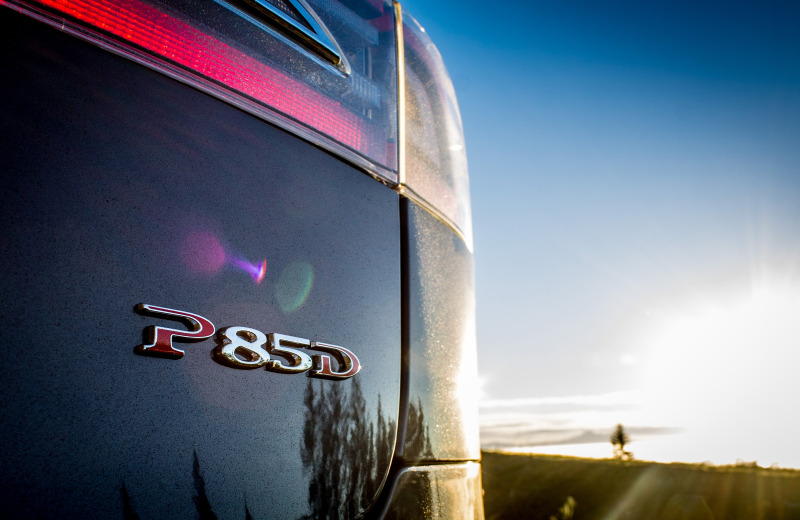 Jan 8, 2015 - driving.ca - Auto journalist Brendan McAleer takes a spin up the North Shore mountains in the newly available Tesla Model S P85D dual motor, complete with all-wheel drive and Insane drive mode. (more ...)
Rooftop Solar Power for the Masses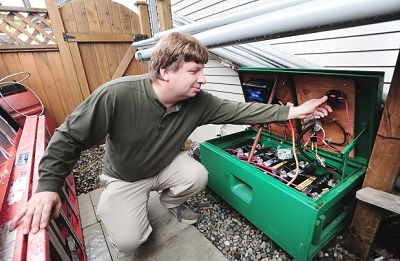 Oct 23, 2014 - Vancouver Sun - When Hans Wekking wants to sell someone on the advantages of a home-based solar power system, he talks about the gasoline he's no longer buying since installing his.The Wekkings bought a Nissan Leaf electric car about the same time he put solar panels on the roof of the garage of their Surrey home. He factors the $200 a month he used to spend on gas in with the electricity he generates to determine his system's payback.'Say (the solar system) is $10,000 installed, and you have an electric car - the money you save on gas pays for the system in four years,' Wekking says. (more ...)
Tesla from Victoria Does a 17,000 km Road Trip
Aug 4, 2014 - The Supercharger network has now made coast to coast travel possible for Tesla drivers at no net cost for fuel. A Victoria, BC resident blogs on his trip south into California and onwards to the east coast. (more ...)
Come to the Monthly VEVA Meeting
Next meeting:
TUESDAY Apr 18, 7pm
,
Location:
Metro Vancouver offices (Metrotown tower), 5945 Kathleen Avenue, Burnaby
Agenda:
Brad Badelt, City of Vancouver - Update on Curbside Charging Pilot Project; Peter Miller, VEVA - ElectraFest 2017 heads-up; Casey Mynott, Delta Secondary School - 100% Electric Drag Racing Vehicle Projects; Brendon James, Metro Vancouver - Vancouver Auto Show Recap; Bruce Sharpe, VEVA - VEVA and the BC Election
---
Last Meeting
-
Kelly Carmichael (VEVA): Pre-inspection for buying a used LEAF, Eve Hou (Metro Vancouver): EVCondo.ca — a new resource for condo owners, Blair Qualey (NCDA): EVs in China, Olivia Yau (Inokum): last-mile E-scooters that fold to fit in a small car trunk
---
Members Note: Meeting audio is usually placed into the Members' Area a week after the meeting, timing varies.
---
---
Past Meetings
Events Calendar
Community

EV

ents
See complete calendar here
Other Event Links ...
LIVE NEWS

via ELECTREK.CO
Electrek RSS newsfeed is down right now!
EV FAQt
In EVs using heat is a problem isn't it? Actually, gas cars always generate heat, whether you need it or not. Fully every 2 out of 3 litres of gas you burn goes to making heat, with 1 litre going to propulsion. You're paying a lot of money to heat the cabin, and the other 3/4 of the year you are warming our climate some more.
EV Related Forums
Join an growing online community of EVers! Browse these forums and get involved. There are a lot of projects for bikes, cars, batteries, charging and more with knowledge you can apply to your own projects!


DIY Electric Car Forums

V is for Voltage

EVforum.net
A 1912 Production Electric Car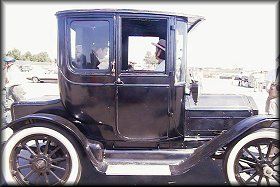 Shown above is VEVA's 1912 Detroit Electric. This car was owned by Mrs. Florence French of Victoria, BC from 1912 till the 1950s. It was driven regularly until the mid-1950s. Electric cars were popular with the ladies due to the ease of starting, quietness and smoke-free cleanliness. The original Nickel-Iron batteries were replaced in the late 1990s because the cases were deteriorated - but they still worked fine! View a photo of the Detroit at home in the Stave Falls BC Hydro powerhouse museum, also built in 1912! It's near Mission, BC at 31338 Dewdney Trunk Road. Call ahead at 604-462-1222 for hours.

2012 Production Electric Cars
The Nissan Leaf
As of 2012, 100 years after the Detroit Electric rolled off the assembly line, The Nissan LEAF electric car is now in production in the Japan, the USA and the EU. As of 2013, it is the world's best selling electric car. The LEAF has a real-world range of 100-160 km, depending on road conditions and driving style. With charging stations being installed at a great rate starting in 2012, including some planned Level 3 chargers which provide an adequate charge from empty in less than an hour, this is the pure electric with the most promise for the masses.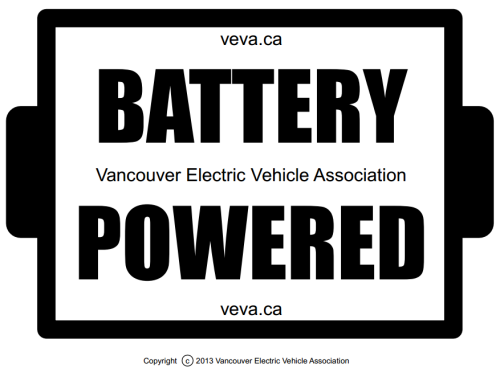 Lucid Air Electric Car Officially on Sale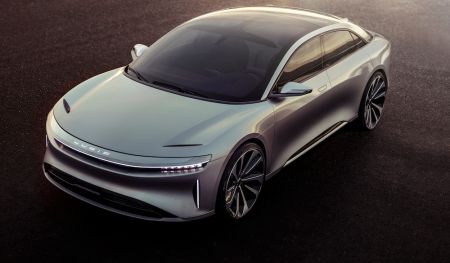 Mar 18, 2017 - After Chinese-backed US-based electric car startup Lucid Motors debuted its stunning prototype Lucid Air sedan in December, the vehicle is now officially on sale in the US. At a starting price of US $60,000 before incentives or tax credits, the luxury sports sedan is competitively priced. At a base 2WD and 400hp, it can be optioned to beyond $100k. (more ...)
EVs a Big Component of Ontario's 5-Yr Climate Action Plan
Jun 8, 2016 - After consultation with EV industry partners over the last year, Plug'n Drive Ontario has worked closely with Ontario's Ministries to develop a series of practical and comprehensive policy recommendations to help electrify Ontario's transportation sector. Highlights:
-Eliminating Ontario's portion of HST (8%) from new EV purchases. This is in addition to the existing incentive of up to $14,000 off a new EV purchase and $1,000 off the purchase and installation of a home charging station
-A subsidy program for low and moderate income households to replace a gas car more than 12 years old with a new or used emissions-free electric car
-Up to $2 million for Plug'n Drive to establish and operate a facility to showcase electric vehicles and related technology to Ontarians across the Province
-FREE electricity for four years when charging at home overnight
-Building code changes mandating an EV charging plug in all new homes and town-homes
-Mandatory charging infrastructure at all new commercial office buildings and appropriate workplaces
-$10 million for EV education campaigns
-$10 million for electric school bus pilot projects in five communities
Read 85-pg PDF ... (more ...)
More States Form Legislation Madating Apartment Charging
Jan 22, 2016 - EV charging is an important issue. For people who live in apartments or condominiums, getting access to a charging station for an EV can be a problem. If the objective is to make driving an EV a pleasant experience for everyone, this problem needs a solution. EVs should not be restricted only to single family home owners. California Senate Assembly Bill 2565 and the upcoming Maryland's Senate Bill 168 are hints of what's to come.Circuit sharing schemes such as Evercharge which take advantage of the J1772 standard's ability to throttle the charging rate are already on the way. (more ...)
2016 GM Volt Incrementally Better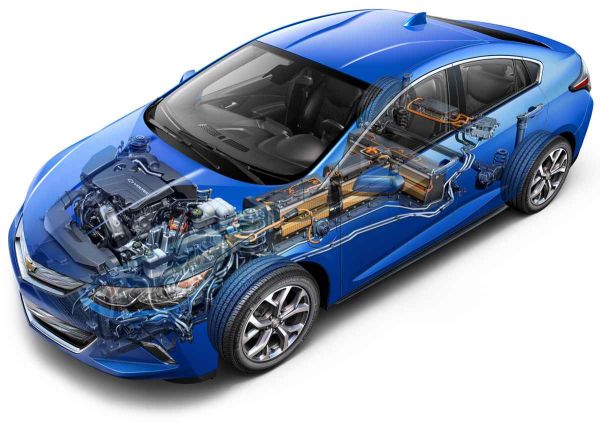 May 18, 2015 - Chevrolet has completely redesigned its plug-in hybrid Volt for 2016. It's 240 pounds lighter, uses fewer cells but increases energy to 18.4 kWh from 17.1 kWh. Two electric motors make it faster, and the 1.5l gas engine now is rated at 41 mpg vs the previous 37 mpg. The T-pack has been lowered - now the rear seats three. The LG Chem plant in Holland, MI is going from idle to full capacity. See 2016 Volt battery engineering. (more ...)
Nissan and NASA partner to jointly develop and deploy autonomous drive vehicles by end of year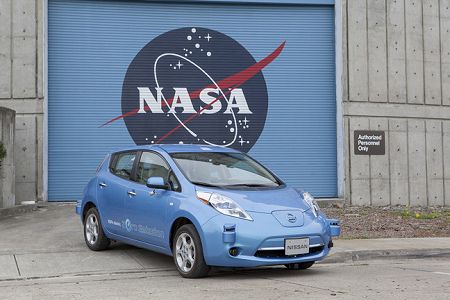 Jan 9, 2015 - SUNNYVALE, Calif. - Nissan Motor Co., through its North American-based organization, and NASA today announced the formation of a five-year research and development partnership to advance autonomous vehicle systems and prepare for commercial application of the technology. (more ...)
WWF Releases 2014 Canada EV Update Report

Nov 13, 2014 - WWF Canada and plugndrive have released a 19-page report on the 2014 status of EV adoption in Canada. (more ...)
Battery Prices May Already be Dropping - Heads Up Conversion Folks!
May 30, 2014 - Surplus EV battery packs are an early indicator of low pack prices coming down the pipe. The 24 kWh packs from the Renault Fluence (Better Place bankruptcy) which use cells mostly indentical to those in the Nissan Leaf are being resold at $7000 from EVTV. The close-cousin in terms of chemistry are the 16 kWH packs from the GM Volt which are listed online in several places at $2995 full retail, discounted as low as $2300. (more ...)
Nissan NV200 Delivery Van to Make Debut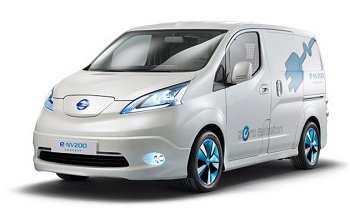 Mar 15, 2014 - The idea behind Nissan's new EV based on the existing gas NV200 was to combine all the best qualities of the LEAF with the cargo capacity of the NV200, creating an effective electric transportation solution for delivery services/small businesses (or as a people carrier). No word on pricing at this date. (more ...)