Metro Vancouver Now has a Condo Charging Guide

Jan 21, 2017 - Metro Vancouver has launched a website that provides information for strata councils, property managers and residents interested in EV charging in multi-family buildings. The website also features a Registry for EV friendly strata buildings, which populates buildings that have EV charging on a map. Each registered property features the building name, location, information on parking, type / level of charging available, and available information on building bylaws related to EV charging. To add to the Registry, click here. (more ...)
Jerry Kroll Featured on CBC News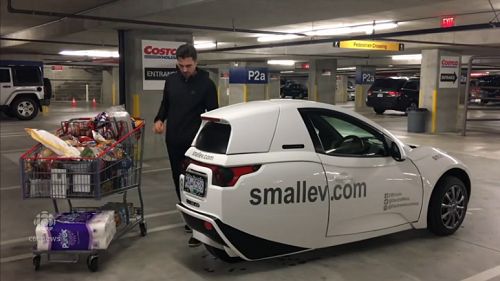 Jan 15, 2017 - Jerry Kroll is the CEO of Electra Meccanica, a local company aiming to bring a single-seat electric car to the global electric car market. "My background is motor sports — and all the cars a race car driver wants to drive are single seaters," he told host Gloria Macarenko on CBC's Our Vancouver. The three-wheeled single-seater called Solo, takes less than half the space of a regular car and still offers the driver enough room for a full cart of groceries in its front and rear trunks. (more ...)
VEVA's Government Policy Reommendations
Apr 8, 2016 - Electric vehicle adoption in BC has been slower than hoped. There are many things that the BC provincial government could do to enhance electric vehicle (EV) adoption, and we understand that any action taken must align with and complement current transportation strategies, including other lower emission vehicles. (Read the 14 pg PDF here)
Rebates can give you $10k off a new EV Right Now!
Aug 5, 2015 - The BC Government $5000 rebate which started April 2015 to encourage the purchase of Clean Energy Vehicles is one third subscribed after only 4 months. You can get a further $3250 from a 1999 or older car that you've owned for at least 6 months. These plus dealer incentives can get you into a smartED for under $20,000, or a Nissan Leaf for under $25,000. For more information see CEVforBC and Scrapit
Locally Produced EV will Qualify for the 2015 BC Rebate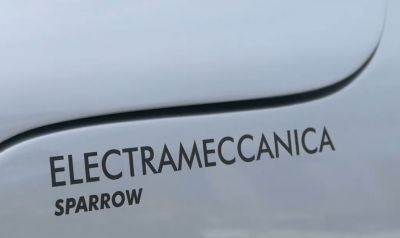 Mar 19, 2015 - Click the link to watch the video featuring the BC-made Electrameccanica Sparrow. (more ...)
e-Mazing Race 2014 Entrants Log Tens of Thousands of Kilometers Across Canada's Green Highways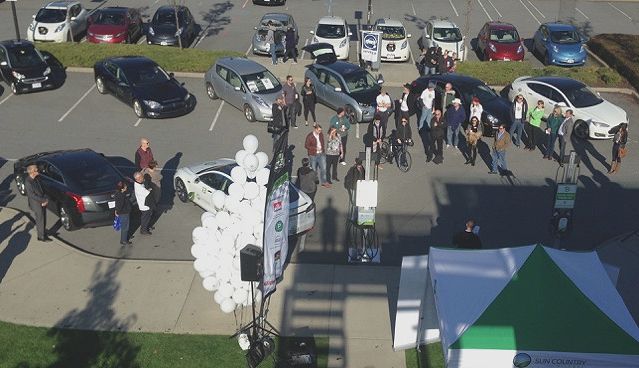 Nov 2, 2014 - During the month of October 2014, e-Mazing Race entrants across North America drove and charged hundreds of times and covered the entire width of the continent. Check out Steve Coram's blog entry. (more ...)
Copper Theives Hit Charging Stations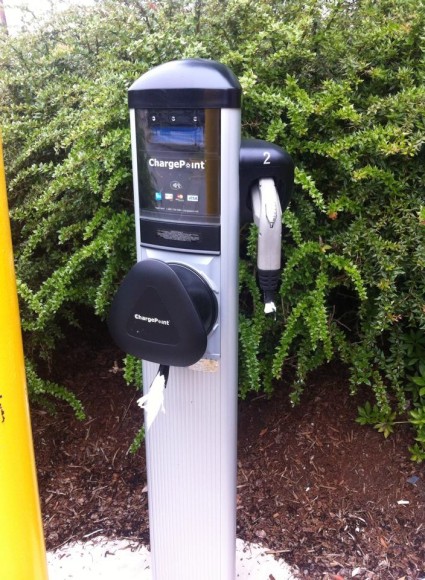 Aug 19, 2014 - A new phenomenon is becoming fairly problematic for plug in owners in the cities of Surrey and Richmond, BC, both of which form part of the Metro Vancouver area. (more ...)
Come to the Monthly VEVA Meeting
Next meeting:
TUESDAY Feb 21, 7pm
,
Location:
TBA
Agenda:
TBA
---
Last Meeting
-
AGM and EV Policy Report Card presentation by Suzanne Goldberg, SFU
---
Members Note: Meeting audio is usually placed into the Members' Area a week after the meeting, timing varies.
---
---
Past Meetings
Events Calendar
Community

EV

ents
See complete calendar here
Mon Jan 30

(6:30pm)


Mission Transition: a community discussion about solar panels, green jobs, renewable energy and more

Location: New Westminster, Sapperton Pensioners Hall: 318 Keary Street, New Westminster (Near Sapperton Station)

Sponsor: Force of Nature Alliance

Admission:

FREE

[Link]

Contact: Bruce Sharpe

Email:
Other Event Links ...
LIVE NEWS

via ELECTREK.CO
Electrek RSS newsfeed is down right now!
EV FAQt
Lithium batteries are being recycled. Lead-acid batteries are 99% recyclable.
EV Related Forums
Join an growing online community of EVers! Browse these forums and get involved. There are a lot of projects for bikes, cars, batteries, charging and more with knowledge you can apply to your own projects!


DIY Electric Car Forums

V is for Voltage

EVforum.net
A 1912 Production Electric Car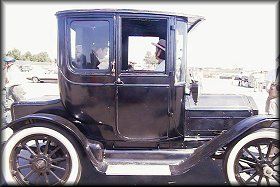 Shown above is VEVA's 1912 Detroit Electric. This car was owned by Mrs. Florence French of Victoria, BC from 1912 till the 1950s. It was driven regularly until the mid-1950s. Electric cars were popular with the ladies due to the ease of starting, quietness and smoke-free cleanliness. The original Nickel-Iron batteries were replaced in the late 1990s because the cases were deteriorated - but they still worked fine! View a photo of the Detroit at home in the Stave Falls BC Hydro powerhouse museum, also built in 1912! It's near Mission, BC at 31338 Dewdney Trunk Road. Call ahead at 604-462-1222 for hours.

2012 Production Electric Cars
The Nissan Leaf
As of 2012, 100 years after the Detroit Electric rolled off the assembly line, The Nissan LEAF electric car is now in production in the Japan, the USA and the EU. As of 2013, it is the world's best selling electric car. The LEAF has a real-world range of 100-160 km, depending on road conditions and driving style. With charging stations being installed at a great rate starting in 2012, including some planned Level 3 chargers which provide an adequate charge from empty in less than an hour, this is the pure electric with the most promise for the masses.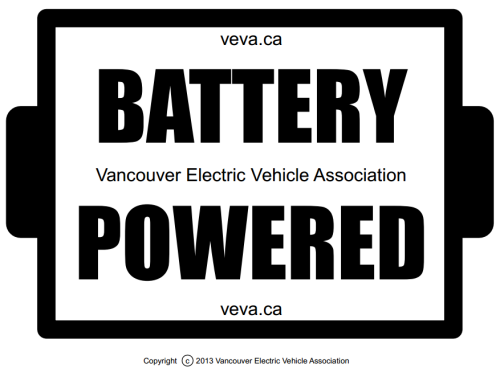 VW announces BEV Microbus (again)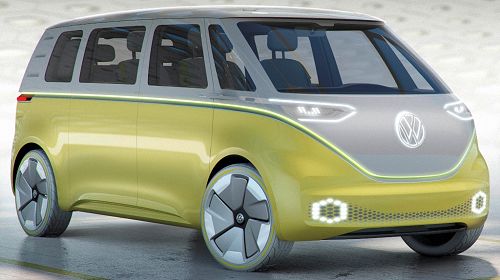 Jan 15, 2017 - Volkswagen announced a new Microbus concept at 2017 Detroit Auto Show and it looks like they should definitely build it.Whether it will become reality, no one knows.The following Link will provide information and Pictures (more ...)
Pikes Peak: Electric Is Here To Stay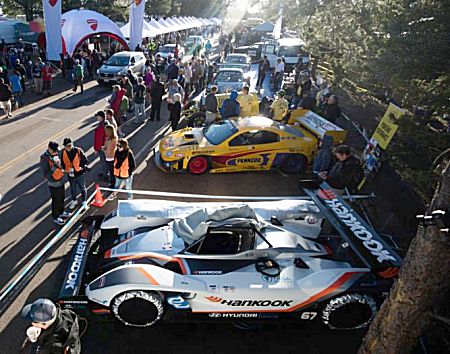 Jun 26, 2016 - Veteran Rhys Millen drove his Latvian Electric Drive eO PP100 to a second place finish and a new electric record with a time of 8:57 in the 2016 running of the Pikes Peak Hillclimb. Despite spinning out and coming to a complete stop, he managed to finish within 5.5 seconds of the race winner. We note that 3 of the top 5 finishers were battery electric cars. A major factor in favour of electric drive is the fact that the cars burning fuel produce less power as oxygen becomes rarified at 14,000 ft.
Of interest is the Tesla P90D entry that was prepped by removing 800 lbs of interior and with airbags removed. Its time of 10:48 placed it 64th in a field of 77 finishers and set a new record for the electric production class. The Tesla had exactly half the power and torque and almost twice the weight of the Rhys Millen car.
Nissan ran a stock Leaf in 2011 and set a time of 14:33 which was better than some modified internal combustion engined cars.
Race results are posted here. (more ...)
Tesla Model 3 Details
Jan 29, 2016 - It will bear a family resemblance to the Model S but will be about the size of a BMW 3 series. Available in both sedan and crossover models, the base US price before incentives will be $35,000 ($49,000 Cdn). Of course there will be options galore so you'll see a continuum of pricing from the Model 3, through the CPO and the Model S, X lines. The real-world range will be 320 km. and the battery might be around 60 kWh. Unveiling comes in spring 2016 and orders wil be taken after that. That's all we know so far.
FIA Formula E Series 2015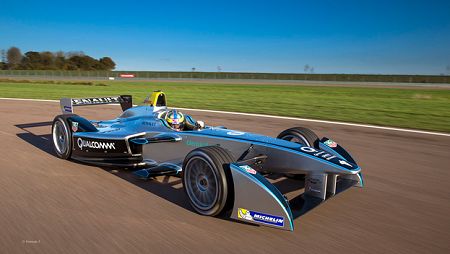 Jun 12, 2015 - Formula E is a new FIA-sanctioned motorsport featuring purpose-built electric single-seat cars racing on street circuits in the heart of some of the world's most famous cities. London will be a sellout in this inaugural season. Ten teams with two drivers each will race in 10 world cities. Each event comprises practice, qualifying and the race itself - all on a single Saturday! Each driver will use two cars in the main race, due to limitations in current battery technology. All teams will use the same car in this first year from Spark racing, which takes the motor from the McLaren P1, 28 kWh in batteries from Williams, a chassis from Dallara and tires from Michelin with a 200 kWh limit. In a nod to the connected age, fans will be able to vote online ahead of time to provide extra bursts of energy to their favourite drivers.More info (more ...)
Low Gas Prices Can't Hold Back EV Sales
Jan 10, 2015 - fool.com - If you thought low gas prices could kill the electric vehicle revolution, the industry's record sales in December will come as a big surprise. According to InsideEVs, 12,874 EVs were sold in the U.S. during December, more than any month in history. This comes as gas prices were plunging toward $2 per gallon. (more ...)
Solar Powered Bakery in Germany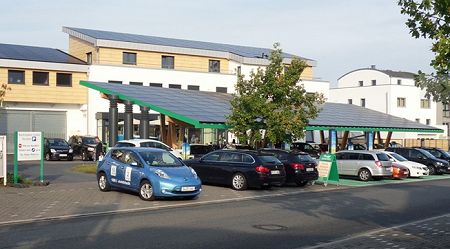 Nov 15, 2014 - In the town of Hilden, near Dusseldorf Germany, is a Bakery that uses Photo Voltaic Solar modules to generate the electricity to bake bread and charge Battery Powered cars. Roland Schüren is the name of the 4th Generation Baker and the new Bakery that was built in 2012 has Photo Voltaic Modules on the building roof and more PV Modules on the parking structure in front of the Bakery. (more ...)
Norway has 27 Times the EVs Per Capita as BC
Jun 12, 2014 - Think BC has a lot of electric cars? Well, northern Washington State with a similar population has about 8 times more. And just look at Norway. With 15% more population, it has a staggering 31 times more EVs on the road than BC! $5 billion a year leaves the BC economy from the motor fuel we all pay for. Norway has a surplus, and 10 times as many charging stations. Click the link to read the compelling story in BCSEA News. (more ...)
BMW X5 Plug-In Hybrid May Be Close to Production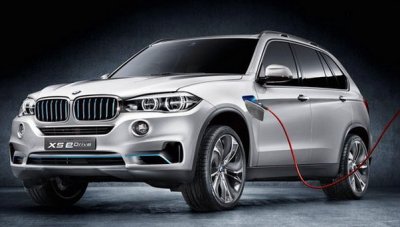 Apr 5, 2014 - BMW's concept X5 lithium-ion battery gives the SUV a pure-electric range of up to 30 km (19 miles) and speeds of up to 120 km/h. (more ...)