6 ways B.C. is so great for electric vehicles
Apr 6, 2016 - The Vancouver Auto Show showcased a variety of vehicles running on alternative energy sources. The interest in B.C. around alternative energy vehicles, including hydrogen fuel cells, hybrids, and plug-in electrics, has been increasing, and with good reason. The truth is that B.C. is a great place to drive EVs. (more ...)
Electric Cars in BC Now Qualify for HOV Lanes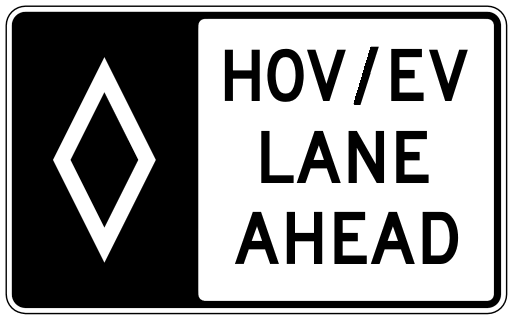 Mar 2, 2016 - CTVnews - Drivers who go plug-in electric in B.C. are about to get the green light to travel the province's high occupancy vehicle lanes regardless of occupancy requirements. (Read why this makes sense)The HOV changes are part of series of vehicle emission initiatives, including almost $7 million to fund more electric vehicle charging stations and to encourage people to buy electric vehicles.B.C.'s Clean Energy Vehicle program includes point-of-sale incentives of up to $5,000 for the purchase or lease of new battery-electric or plug-in hybrid electric vehicles. The potential saving could rise to $8,250 when combined with vehicle scrap incentives. B.C. has spent $31 million in its Clean Energy Vehicle program over the past five years. There are more than 2,300 clean energy vehicles on the road in B.C. See Official Release which contains details on how to apply for your sticker and the followup (more ...)
Provincial Funds Available for Red Seal Electricians to Take EVITP
Jan 21, 2016 - To support the expansion of electric vehicle (EV) charging infrastructure and increase sales of EVs the Province is providing $50,000 to help certified electricians receive training in the installation and maintenance of EV charging stations via the Electric Vehicle Infrastructure Training Program. (more ...)
E-Mazing Race 2015 Gets Underway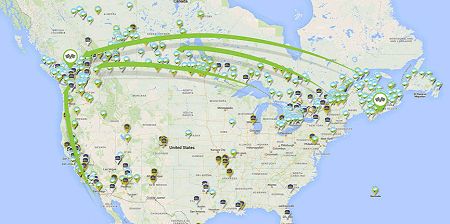 Apr 16, 2015 - It's not a timed race to finish. It's a unique social phenomenon. Participants with EVs register and download a free app. During the period May 27 - June 24 racers post car selfies at Sun Country Highway Charging stations found all over North America. Official launch is on May 27 from the EV2015VE Tradeshow, Halifax, NS. (more ...)
How far out can I go on a partial charge? How long does it take to charge?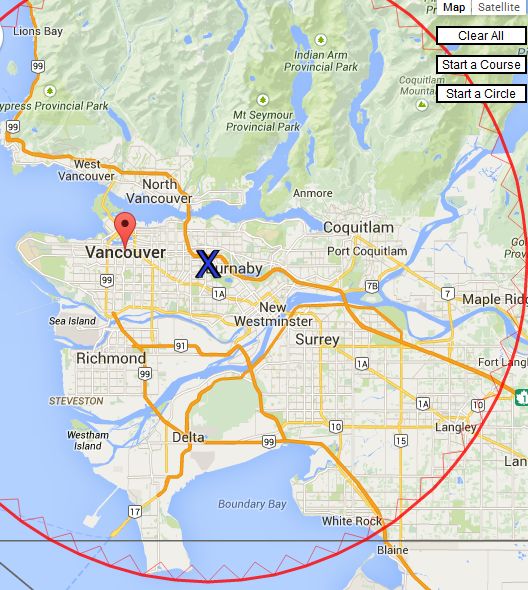 Nov 25, 2014 - Here's a quick way to find out how far you can roam round trip on a single charge. The example map shows a radius of 32 km centered at BCIT. This represents the reasonable range of a Nissan Leaf starting out with an 80% charge and with climate controls in full operation. Although the stated range of the car is 160 km, we have assumed a conservative 80 km, accounting for routing, hills and cabin climate control usage. We also assume no charging at all en route. If you do recharge en route, the Level 2 recharge time for the one-way 32 km trip is 1.5+ hours at 3.6 kW input (pre-2013 models) and 1 hour at 5.7 kW (2013 and newer models) and the energy cost is about 60 cents at 11 cents per kWh. (more ...)
Port Moody Couple Forced to Move Because of Strata Ruling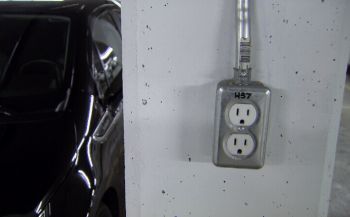 Sep 3, 2014 - A Port Moody couple has been forced to move after their building's strata corporation refused to let them charge their electric car, even though an electric outlet was right next to their parking stall. (more ...)
Plugged in with Electric Cars
May 30, 2014 - Watershed Sentinel - Electric cars have all the right stuff when it comes to being green, but there's also the running cost - a small fraction that of gas. And quick enough to put high-end gas drivers in their place! (more ...)
A Modern History of EVs
Since 1990, Califiornia's ZEV mandate which has been adopted as a model for many states, has driven the advent of a significant influx of EV models to the market. This despite the oversupply of oil in the personal transportation marketplace. (more ...)
Come to the Monthly VEVA Meeting
Next meeting:
Wed July 20, 7pm
,
Location:
TBA
Agenda:
TBA
---
Last Meeting
- Michael Webb, worked with the City of Vancouver to suggest solutions for people who do not have a garage for home charging. He did an overview of EVs and charging, with reference to other cities that have provisions for reserved street parking for homeowners with EVs, and showed a provision for running power cabling under sidewalks.
Brad Badelt, Senior Sustainability Specialist with the City of Vancouver is researching residential and commercial curbside EV charging options based on what other cities are doing, and the city plans to launch a pilot program.
---
Members Note: Meeting audio is placed into the Members' Area a week after the meeting, timing varies.
---
---
Past Meetings
Events Calendar
The Main

EV

ent ...
Community

EV

ents
Other Event Links ...
LIVE NEWS

via ELECTREK.CO
Electrek RSS newsfeed is down right now!
EV FAQt
A 12 km trip in an electric car uses the same electrical energy as a string of 100 mini Christmas lights (120 watts) burning for one 24 hour day.
EV Related Forums
Join an growing online community of EVers! Browse these forums and get involved. There are a lot of projects for bikes, cars, batteries, charging and more with knowledge you can apply to your own projects!


DIY Electric Car Forums

V is for Voltage

EVforum.net
A 1912 Production Electric Car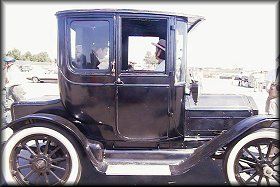 Shown above is VEVA's 1912 Detroit Electric. This car was owned by Mrs. Florence French of Victoria, BC from 1912 till the 1950s. It was driven regularly until the mid-1950s. Electric cars were popular with the ladies due to the ease of starting, quietness and smoke-free cleanliness. The original Nickel-Iron batteries were replaced in the late 1990s because the cases were deteriorated - but they still worked fine! View a photo of the Detroit at home in the Stave Falls BC Hydro powerhouse museum, also built in 1912! It's near Mission, BC at 31338 Dewdney Trunk Road. Call ahead at 604-462-1222 for hours.

2012 Production Electric Cars
The Nissan Leaf
As of 2012, 100 years after the Detroit Electric rolled off the assembly line, The Nissan LEAF electric car is now in production in the Japan, the USA and the EU. As of 2013, it is the world's best selling electric car. The LEAF has a real-world range of 100-160 km, depending on road conditions and driving style. With charging stations being installed at a great rate starting in 2012, including some planned Level 3 chargers which provide an adequate charge from empty in less than an hour, this is the pure electric with the most promise for the masses.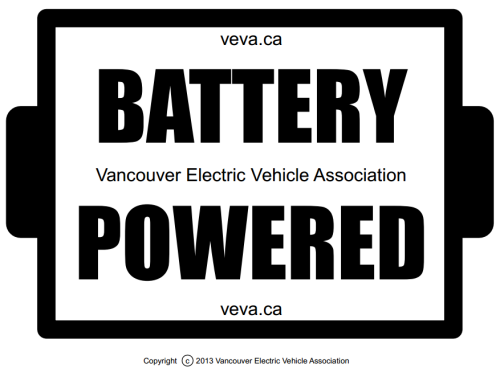 EVs a Big Component of Ontario's 5-Yr Climate Action Plan
Jun 8, 2016 - After consultation with EV industry partners over the last year, Plug'n Drive Ontario has worked closely with Ontario's Ministries to develop a series of practical and comprehensive policy recommendations to help electrify Ontario's transportation sector. Highlights:
-Eliminating Ontario's portion of HST (8%) from new EV purchases. This is in addition to the existing incentive of up to $14,000 off a new EV purchase and $1,000 off the purchase and installation of a home charging station
-A subsidy program for low and moderate income households to replace a gas car more than 12 years old with a new or used emissions-free electric car
-Up to $2 million for Plug'n Drive to establish and operate a facility to showcase electric vehicles and related technology to Ontarians across the Province
-FREE electricity for four years when charging at home overnight
-Building code changes mandating an EV charging plug in all new homes and town-homes
-Mandatory charging infrastructure at all new commercial office buildings and appropriate workplaces
-$10 million for EV education campaigns
-$10 million for electric school bus pilot projects in five communities
Read 85-pg PDF ... (more ...)
CHAdeMO 150 kW Chargers could be deployed in 2017
Jun 2, 2016 - The same plug will be specified but current EVs will still be downward compatible at 50 kW. Even higher power CHAdeMO designs (up to 350 kW) are being considered before 2020 in anticipation of new energy storage methods being widely adopted. Click to view PDF. (more ...)
Téo Taxi electric cab fleet hits the streets of downtown Montreal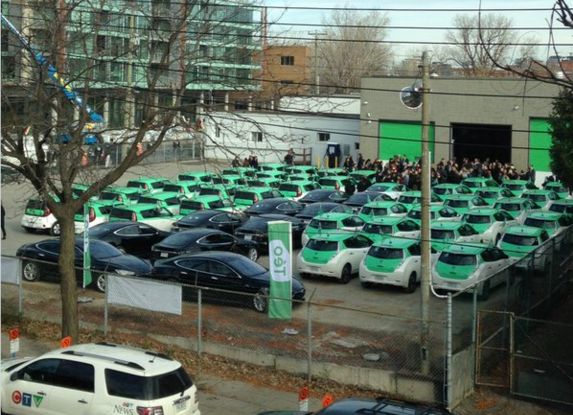 Nov 26, 2015 - The main test fleet is comprised of Nissan Leafs and Kia Souls. All cars are equipped with meters and prices are similiar to those in other Montreal cabs. Téo Noir, the company's high-end service, is testing 10 black Teslas to compete with limousines in the city. ​In a departure from low-pay and long hours, Téo drivers get paid $15 an hour. They'll also get benefits, including paid vacation days. Téo plans to equip every electric taxi with free wifi and a tablet in the backseat for customers to access TV news, newspapers and streaming music. See video (more ...)
Landlords get charged up for electric cars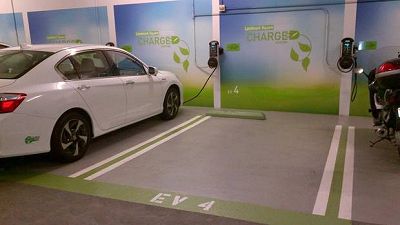 Apr 15, 2015 - In the past few years, provinces such as Ontario, Quebec and British Columbia have rolled out different incentive plans for landlords and businesses to install industry-standard charging stations. Coupled with tenant demand, commercial real estate owners and managers have plenty of reasons to invest in these chargers – which, in turn, should increase demand for vehicles themselves. (more ...)
Nissan Leaf replacement Battery price announced
Jun 30, 2014 - Nissan USA has announced pricing for the replacement of Nissan Leaf battery packs that is surprisingly affordable.Battery replacements are now available for purchase at your certified Nissan LEAF dealers in the United States. The suggested retail price of the Nissan LEAF battery pack is $5,499. This price includes and requires a return of your original battery pack (valued at $1,000) to the dealer in exchange for the new battery. This price does not include tax, installation fees or an installation kit required for 2011 and 2012 vehicles. The MSRP for the installation kit (which includes brackets and other minor parts required to retrofit the newer pack to original vehicles) is approximately $225. Nissan expects the installation to take about three hours. However, dealers set the final pricing, so we recommend confirming with your local retailer. (more ...)
Condo Charging Guide
May 11, 2014 - Plug'n Drive, an Ontario-based EV initiative has created a comprehensive guide to condo charging in Canada. We would like to adopt similar guidelines for BC. (more ...)
Nissan BladeGlider Concept at VANCOUVER AUTO SHOW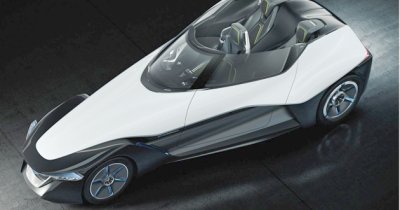 Feb 25, 2014 - The Nissan BladeGlider design has a narrow nose section and a wide rear section to aid stability. Propelled by two in-wheel electric motors, it is powered by the lithium-ion battery pack from the production Nissan Leaf. So you might be able to go to a Nissan dealership in the near future and buy your own BladeGlider. See it at the Vancouver Auto Show March 24 to 29. (more ...)
Kia Soul EV in 2014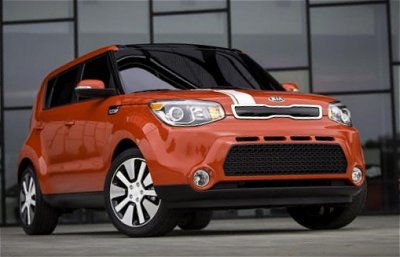 Nov 2, 2013 - The 2014 Kia Soul EV will be sold around the world, have a 200 km range and is expected to cost $35,000 US. (more ...)